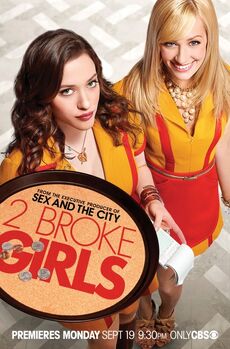 2 Broke Girls
is an American television comedy series on CBS. It premiered on September 19, 2011.
On September 26, it moved to what became its regular time-slot, airing after How I Met Your Mother. Its core format was developed, and its central characters created, by Michael Patrick King of Sex and the City and Whitney Cummings.
Set in New York City, the series revolves the lives of two waitresses in their twenties—-Max Black, played by Kat Dennings, who comes from a poor working-class family, and Caroline Channing played by (Beth Behrs), who was born rich but is now cash poor-—working together at the Williamsburg Diner, a Brooklyn restaurant. As the two work together, they become friends and try to realize their dream of one day opening a cupcake shop (for which they need to raise $250,000), despite getting paid hardly anything, and must continually find ways to make ends meet.
Other characters include their boss, Han Lee, the diner's proprietor; Oleg, a cook at the diner; and Earl, the diner's cashier.
Press Release Description
Edit
2 BROKE GIRLS is a comedy about the unlikely friendship that develops between two very different young women who meet waitressing at a diner in trendy Williamsburg Brooklyn, and form a bond over their dream of one day owning their own successful cupcake business. Only one thing stands in their way - they're broke.
Sarcastic, street-smart Max Black met the sophisticated, school-smart Caroline Channing when the uptown trust fund princess was having a run of bad luck due to her father's Wall Street scandal, which caused her to lose all her money and forced her to give waitressing a shot.
At first, Max sees Caroline as an entitled rich girl, but she's surprised to find that Caroline has as much substance as she does style. When Caroline discovers Max's knack for baking amazing cupcakes, she visualizes a lucrative future for them and they begin to save money to reach their start-up money goal of $250,000. As the girls' cupcake tally expands week-to-week, they become closer to their goal and to each other.
At the diner they are surrounded by their offbeat, colorful "work family:" Oleg, an overly flirtatious cook; Earl, a hip 75-year-old cashier; Han, the eager-to-please owner of the diner and Sophie, the girls' outrageous upstairs neighbor. As Max and Caroline climb toward their goal, we see that their "smarts" plus their "hearts" might just be the recipe for success.
Series Synopis
Edit
Set in the Williamsburg neighborhood of the New York City borough of Brooklyn, the series chronicles the lives of two waitresses in their mid twenties—Max, who comes from a poor working-class family, and Caroline, who was born rich but is now disgraced and penniless due to her father, Martin Channing, getting caught operating a Bernard Madoff-esque Ponzi scheme—working together at a Brooklyn restaurant. The two become friends and build toward their dream of one day opening a cupcake shop. Among those working with them at the restaurant are their boss, Han Lee; Oleg, an upbeat but perverted Ukrainian cook; and Earl, a 75-year-old African-American cashier.
Also featured starting late in the first season is their neighbor and part-time boss Sophie, a Polish immigrant who runs the housecleaning company Sophie's Choice. During most of the first season Max is also a part-time nanny for the twin babies of Peach Landis, who during the season adopts Caroline's horse Chestnut. At the end of each episode a tally shows how much they have made toward their goal of $250,000 needed to open their business. Early in the second season, Sophie lends the girls $20,000, which is enough for them to start their business. However, the business fails, and in the 18th episode they are forced to give up the lease of their cupcake shop with just enough money to pay off Sophie's loan, resetting the end of episode tally to $5.00.
International broadcasts
Edit
Thes series has been picked up in the following countries:
| Country | Network | Premiere Date | Notes |
| --- | --- | --- | --- |
| Australia | Nine Network | February 14, 2012 | Season 2 currently fast-tracked 5 days after US airing, Tuesdays at 9pm, with Season 1 being re-run on Nine's digital channel GO! weeknights at 6:30. |
| Belgium | VIER | September 1, 2012  | |
| Canada | City | September 19, 2012 | Simulcast by CBS in Canada. Aires at the same time and date. |
| Germany | ProSieben | August 28, 2012 | |
| Ireland | RTÉ | January 19, 2012 | |
| Italy | Mya | May 21, 2012 | 10:15pm, airing after Suburgatory. |
| New Zealand | TV2 | February 8, 2012 | 8:00pm, airing after Two And A Half Men |
| Sweden | TV4 | September 13, 2012 | Known as Två panka tjejer. Airing 21:30 after New Girl |
| United Kingdom | E4 / Channel 4 | April 19, 2012 | 9:30pm, airing after The New Normal |
Ad blocker interference detected!
Wikia is a free-to-use site that makes money from advertising. We have a modified experience for viewers using ad blockers

Wikia is not accessible if you've made further modifications. Remove the custom ad blocker rule(s) and the page will load as expected.